The legendary Chelsea Manhattan is renowned for its abundance of vibrant sights, sounds and scents. Sweet scents emanate from the sweeping expanse of 6th Ave known as the Chelsea Flower District, an area that seasons the air with pleasant bursts of aroma, one of the most enjoyable of Chelsea attractions. Plants range from typical to exotic, in a myriad of sizes. Also nearby are Chelsea's eclectic collection of art galleries, a spirit which Hotel Indigo New York City-Chelsea embodies in its perpetually engaging décor of rich textures, colors and designs.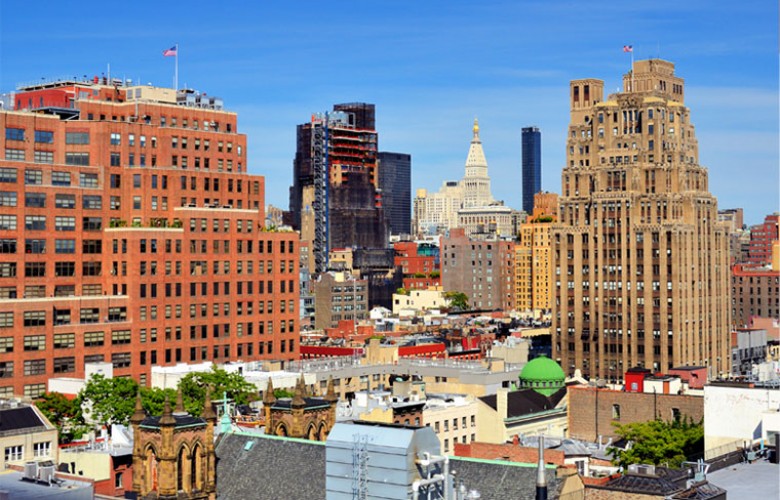 Hotel Indigo Chelsea - Always pushing fashion forward
Along Chelsea's ultra-hip northern fringe, the Garment District and the Flower District are both supplying forms of delicate beauty, each contributing to a century-old market culture of carefully tailored creativity and colorful mass quantity.
The Flower District transforms early each morning into a sidewalk botanical garden as delivery trucks double-park around Penn Station, and drivers unload armfuls of flowers fresh from the warmer climates of Columbia and Ecuador. Because many prices are not posted, conversations with the merchants remain almost mandatory, as if knowingly preserving a more old-fashioned, sociable way of doing things.
Always a hub of coming and going, Chelsea Flower Market wholesalers first set up shop here in the 1890s to be closer to a ritzy stretch called Ladies' Mile, the fashionable row of world-famous department stores located on Broadway. With an allure described as having a "champagne sparkle," even First Ladies, Mrs. Grant and Mrs. Cleveland, were drawn to its Beaux-Arts architecture and its high-end outfits. Yet those glamorous fashions often arrived in most unglamorous ways.
The "push boys" were a rolling army of cigar-smoking immigrants wearing well-worn t-shirts and handling the finest fashions of the day. Making hundreds of trips every week, they wheeled their overloaded carts and hand-trucks full of dresses and fine fabrics along 38th Street at lunchtime straight from the Garment District—grabbing the occasional bouquet to sweeten the deal. Going several blocks rain or shine, each followed a familiar path illuminated by the low-hanging neon signs that led directly into the backdoors of those world-famous retailers. A short walk, but a long way from what began in 1860s as a manufacturing neighborhood that sprang up as a ready supplier of wool uniforms for the Civil War.
As times, technology and trends evolved, early 20th century transportation made it easier for off-the-street buyers to sample showrooms of Parisian couture copies. High-rise loft towers soon flourished with the handiwork of nameless needle-trade workers, cutters and sewers, and the "boys" who first pushed fashion forward from the factory floors.
Whether you're an inspired young designer at the Fashion Institute or a vendor carrying on a family's floral tradition, the Garment and Flower Districts continue to offer the promise of finding exactly what you're looking—and nothing you expected. A distinct neighborhood forever neatly arranged and stitched into history, always on the cutting-edge of what's beautiful.


It Pays to Stay at Hotel Indigo
When it comes to loyalty and rewards, Hotel Indigo New York City-Chelsea raises the bar by offering IHG Rewards Club redeemable at over 4,100 IHG hotels worldwide every time you stay with us. Frequent guests know that we offer more ways to earn points and miles with our travel rewards program
Learn More